---
How the Makers of Wallace and Gromit Fell in Love With Healthcare Work
Heather Wright explains the evolution of Aardman's partner content
Aardman Animations is best known for its adorable, animal-centric stop-motion animations, from Wallace and Gromit and Creature Comforts to Chicken Run and Shaun the Sheep. 
The British animation studio has long done work-for-hire for third parties, though, and recently it's started focusing a lot more on healthcare work, using its world-class directors to make healthcare communications understandable and accessible, through projects around such issues as immunization, malaria and Alzheimer's.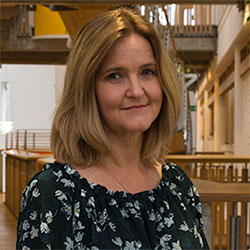 Muse recently caught up with Heather Wright, executive producer and head of partner content at Aardman, to ask about her area of the company's business, and why healthcare work has become so appealing. 
How has Aardman has built up its partner content business generally?
Given the volatility in the advertising market in recent years, we started thinking about other areas where animation was either the product or added significant value to someone else's product. Interestingly, two opportunities to do this came up and they were both in VR. The first one was "Special Delivery" for Google Spotlight Stories, which was essentially an animated entertainment product, and the second one, where animation added value, was "We Wait" for BBC Immersive Studios, who were exploring the idea of immersive news. 
"Special Delivery" is set on Christmas Eve and tells the story of a plucky, diligent janitor who has no one to celebrate Christmas with. When Santa lands on the roof of his apartment block, setting off an intruder alarm, the janitor goes to investigate. What follows is reminiscent of a 1960s caper comedy, with the janitor chasing Santa around the block and always just missing him. 
This film was closer to our heartland in terms of comedy storytelling and gave us the opportunity learn about the 360° space and treating it more like theater, where you can't control what the audience are looking at, or the order or pace of the shots. 
"We Wait" [built for the Oculus Rift VR headset] was our first foray into documentary and was therefore very serious in tone. Based on the Syrian migrant crisis, it follows the journey of one family from Syria across the Mediterranean in an open boat to their final destination in Turkey. 
The story was based on first-person testimony from a BBC journalist based in Turkey and needed a treatment appropriate to the nature of the material. For this reason, the design of the piece was highly stylized, very contemporary and adult in look and completely different to anything we'd ever done. We also experimented with the ability of VR to track body motion so that when the viewer turned in the direction of one of our animated characters, the character would respond by looking back and talking to them. 
How did Aardman start getting into healthcare projects? 
It's more about how healthcare projects started getting into Aardman. We have always made commercials for pharmaceutical companies through our agency clients, but we started being approached initially by charities and more recently directly by pharmas who wanted our brand of gently humorous characters and stories to help them more effectively communicate their often quite dry or serious messages. 
The first significant project we did was for the Bristol Children's Hospital Haematology and Oncology Centre. We were approached by a senior nurse who was having a problem with children coming in for radiotherapy and being traumatized before they even got to the treatment because it was all just too scary. She asked us to make a film which would explain what was going to happen to children in a straightforward and honest yet unthreatening way. 
The resulting film is now shown to children before they come to the unit and has made a big difference to their experience. I believe it's now being used by six different NHS Trusts in the U.K. Unfortunately we can't share it, as viewed in the wrong context it could be too upsetting, so the nurses and clinicians need to have complete control. 
Was healthcare a natural fit for Aardman in terms of the company's philosophy of wanting to make the world a better place? 
Culturally, Aardman is very socially minded. So, as a company and as individuals, we all strive to make the world a better and happier place, so healthcare is a natural fit. 
Healthcare and animation are also best friends, because animation is a great way of simplifying complex information into one friendly, accessible and cohesive story. Things like symbolism, hyperbole, and metaphors can be used in a way that live action often just can't match. The use of graphic and stylized human characters can be very inclusive, neatly sidestepping issues of race or gender in a rainbow of colors and sizes. 
What Food Means | Directed by Åsa Lucander
Animation doesn't always have to mean comedy, especially if it's not always appropriate to the subject at hand. We are increasingly asked to make films for causes such as UN/Project Everyone's "What Food Means" or the Bill & Melinda Gates Foundation's "World Immunization Week." 
World Immunization Week | Directed by Luzy Izzard
Tell me about the #ShareTheOrange project. How did that come about, and why was Magdalena Osinska the right director for that project? 
We have been working with Alzheimer's Research U.K. for around five years now, and this latest film with Bryan Cranston has really grabbed people's attention. Magda was the right director for this project because she has a unique sensitivity in her work. She is great at understanding what needs to happen to tug at people's heartstrings, how to make them feel rather than just see. Her scripts and treatments are very purposeful, which gives an authenticity to her work, making it easy for people to relate to. She puts celebrities at ease, and they feel relaxed and able to deliver their often very personal messages. 
Alzheimer's Research UK's #ShareTheOrange with Bryan Cranston
Bryan Cranston's mother died of Alzheimer's, and getting him to talk about that, as himself, rather than as a character, is a unique skill. It's authentic, and we like to see that vulnerable side of people. We like them for letting us. And of course, Magda wouldn't skimp on the animation, either. The orange was carved in stop-frame, it's a real orange, and the work had to be done quickly before it perished. 
 
I'm also curious about the #MalariaNoMore campaign. What was the backstory around that work? It seems like Aardman's history of doing animation about animals made this a perfect fit. 
Danny Capozzi has a background in graphic design and street art. He started out at Aardman as a stop-frame animator, and gradually his love of graphic art and animation have melded. #MalariaNoMore gave Danny the opportunity to exercise both of his passions. He has a unique energy to his work and a lightness of touch in his art—no more strokes than are actually needed. Every design is thought through, and there is a reason why it is the way it is. 
Meet Mozzie, the deadly creation from Aardman Animations | Malaria Must Die
With the mosquito, the most dangerous part is the proboscis, and it's such a distinct feature that he wanted to make that part really stand out. The language of malaria and mosquitoes very often uses photographic imagery to highlight the plight of the poor people suffering from the illness. This film had a very specific purpose in that it was almost being used as a lobbying tool at a recent Commonwealth Leaders Conference—a group of people who are sadly all too familiar with malaria, and so getting noticed was more than half the battle. The distinctiveness of the graphic animation style used in this film helped it cut through and get noticed simply by being very different from the type of images normally used. 
To what degree is Aardman's reputation for great shorts and features helpful in building partner content? Does the reputation bring any drawbacks?
What a great question. Everybody loves Wallace & Gromit and Shaun the Sheep, don't they? And of course, so do we. But when your most famous characters have such an identifiable look and feel, and are almost omnipresent, it can be hard to get people to notice what else we can do. 
Aardman has always been a collective of artists, and the partner content team in particular does a lot of work for third parties where it would be totally inappropriate to use characters that are reminiscent of the Aardman "house style." It's definitely a double-edged sword, though, because being Aardman can definitely open the doors but it doesn't close the deals. We have to pitch as hard if not harder than anyone else to combat people's preconceived notions of what we're about. Traditionally, about one-third of the company's business is work-for-hire for third parties, so it's a significant income stream.
Is healthcare a major focus of Aardman's for partner content going forward? What other sectors in the company focused on? 
Healthcare will continue to be a focus for partner content, and the difference now is that we are reaching out to the health industry rather than waiting for them to come to us. For the most part, we seem to be pushing at an open door in that people love the accessibility our work has, but it remains to be seen how exactly that translates into work, whether it's cause-related films or behavior-changing motivational films or apps, or explainer videos, or VR experiences for patients and their families. It'll probably be a bit of everything.
We're also looking hard at the games industry, and we recently announced our partnership with Bandai Namco with whom we have a game 11:11 Memories Retold coming out later in the year. Games and animation have long been bedfellows, and this feels like a natural extension for our interactive team. We have a couple more of these projects in the pipeline.
In addition we're looking at theme parks, 4D cinema films and VR Simulator Rides. Watch this space!